More Benefits
testimonials
Great to work with. Organised and helped us through every step of getting up and running. The days training was well worth it.
Simon Watts, J C Construction
Love the fact we can create our own paperwork and have it all fill in for us. Highly recommend Job Tracker Professional.
Paul Harden. Owner Harden Heating & Plumbing
Sam listened to me all the way and showed me exactly how Job Tracker Pro would enable me to move from my excel based business to a near fully automated system. Just wish I'd done it years ago.
Craig Walsh, C4 Maintenance (UK)
WHAT JOB TRACKER WILL DO FOR YOU!
Job Tracker Professional has been built specifically for the property Maintenance,
Facilities Management and Service Repair Industry.
Job Tracker Professional was originally created to meet the needs of one of our valued facilities management customers.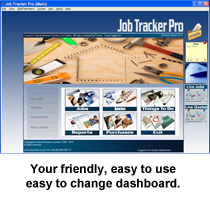 In the early days of Sherwin Business Systems Ltd, when we developed and hosted websites, Tony, a client of ours called and during the conversation he mentioned they were struggling to keep track of their active jobs.
They were losing customers, forgetting to attend jobs and also forgetting to send invoices. They obviously needed to fix that situation for their business to survive. We kept listening and we put a specification together to design a software solution. That was the birth of 'Job Tracker'.
We worked closely with Tony and the result was a piece of software that enabled them to capture the details of their jobs, print out a job sheet, monitor the job through to completion and finally print an invoice and monitor that until it was paid.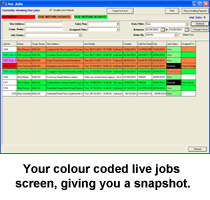 Once the product was launched for Tony and his team we shared the news on our own website. Astonishingly, from just this mention on our website, it wasn't long before we had other companies calling asking us about this Job Tracker product.
There was obviously a need. We researched and found, although there were a couple of packages out there, they were cumbersome and not practical at all to use. They were clearly designed by software people rather than people running real property maintenance businesses. Within the UK there really wasn't anything available that actually worked.
Over the next year we met with several maintenance and management companies and together designed "Job Tracker Professional".