Additional Products
testimonials
We were looking for a system that was flexible so it could bend to our companies requirements. Completely off the shelf Job Tracker and with Sams help fitted out requirements perfectly.
Jason Phils, MD Drainage Force
Great to work with. Organised and helped us through every step of getting up and running. The days training was well worth it.
Simon Watts, J C Construction
Love the fact we can create our own paperwork and have it all fill in for us. Highly recommend Job Tracker Professional.
Paul Harden. Owner Harden Heating & Plumbing
Send SMS directly from within Job Tracker
Save time by sending SMS directly from within Job Tracker, plus utilise the feature of being able to add your own templates, and send them without needing to re key the information.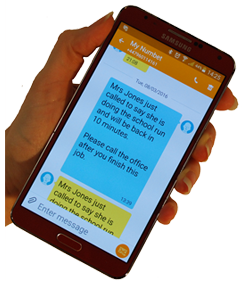 Send text messages to your customers, clients, contractors or field engineers quickly and easily, directly from Job Tracker Professional. To save your business time, you can also create and store templates that you can choose and use as appropriate. With a few mouse clicks, the templates will enable the automatic population of data already stored within the job without you needing to rekey the information. You can select to utilise contact numbers already stored on the job or on your contacts lists, or add new telephone numbers when required. Engineers can easily reply via SMS which will come back to the sender via email. This email, like other communication and documents can be dragged and dropped into the job filing cabinet for future reference, with the rest of your team also having immediate access to view the contents. This feature will save you time, reduce errors and provide a simplified communication method for your business. No additional hardware is required to enable this facility so simply
Contact us
for more detail.