testimonials
Being a start up I was really busy with the daily stuff and didn't have much time to spend getting to grips with a computer system. I did look at a few other packages but they all seemed really hard to use. Sam spent about an hour with me and we had it set up and ready to use. I know its an easy thing to say but it really has helped me grow.
Brian Thompson, Newscatle
Job Tracker Pro has become an essential tool to the efficient running of our company. The Batch invoicing facility along with the reporting saves us so much time and money. S B Systems has proved a great business partner for us and going with Job Tracker Professional was definitely the right decision. Happy to recommend Job Tracker Pro and S B Systems
We were looking for a system that was flexible so it could bend to our companies requirements. Completely off the shelf Job Tracker and with Sams help fitted out requirements perfectly.
Jason Phils, MD Drainage Force
Managing Planned and Reactive work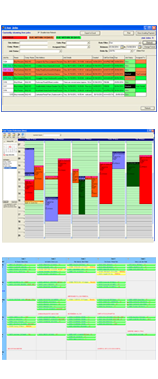 Planned Works
With Job tracker Professionals reminder feature it couldn't be easier to manage your planned maintenance.

1) Tell the system when you want to be reminded e.g. next year, in 6 months.
2) Tell it why, .e.g boiler service, Gas safety etc. and forget about it.
3) When the times right, Job Tracker Professional will give you a list of your planned maintenance due within
the time frame you like to work to, i.e within the next 30, 60, 90 days.
You can now use the inbuilt communication features, SMS, Email, Letters to liaise with your customers.
when you've got the go ahead you can clone the previous job, assign your engineer and book it in the diary.
Reactive Works
With Job Tracker Professionals choice of Diary, White board and Live Jobs Screen it couldn't be easier to see when
you can schedule in a reactive job.

1) Have a look at your work load using your choice of scheduler.
2) Enter the job details, book the engineer and send your customer a notification via email or SMS.
3) That's it. Your Job will now appear in your Diary, White Board and Live Jobs Screen.
&nbsp