testimonials
Job Tracker Pro is an important tool in our business. The system is easy to navigate a round. I would call it a one stop shop, as you can track everything from purchases, job status, invoicing, emails and stock control. We have commissioned bespoke modifications over the 6 years we have been using the system, from pda's, mapping and our white board. I would highly recommend this system and the support staff at SB Systems
Claire, UK Dry Risers Maintenance Ltd
We use SB Systems excellent bespoke software, . The product is easy to use and can be adapted. Sam offers superb remote assistance with any technical issues that might arise and is continuously making improvements to the software. We have used this product for nearly 10 years now. I highly recommend Sam Sherwin and S B Systems
Calvin Oram, Oak Tree Mortgages
S B Systems was extremely helpful both before we started using job tracker and ongoing.
Turning Quotations Into Sales
That's just one of the reasons so many choose Job Tracker Professional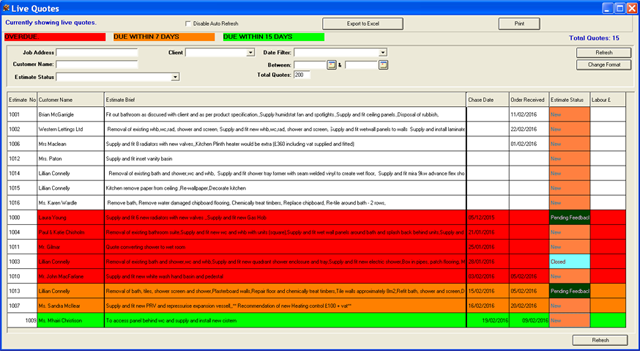 The live quotations screen gives you all you need to keep on top of your ongoing quotations. The colour coded screen keeps you on top of when you need to follow up, chase up and progress it to the next level. All documentation and communication with your prospect is all kept within the uniquely numbered quotation giving you instant and easy access.

To speed up the whole "following up" process we've included a document and email template feature. This allows you to create thousands of pre-formatted letters that can be sent out at the press of a button.
The daily "Things To Do" list also helps keep you on top of promises you've made, ensuring you're always on time and professional in dealing with your quotations.