Additional Products
testimonials
"To be able to work so closely with the developer and get almost instant fixes & / or amendments has been outstanding. Great company to work with"
Daniel, Diamonds In Style
" Sam and the team at Sherwin Business systems have work closely with Hebs Group to ensure they fully understand our requirements and how dynamic our business can be, the flexibility of Job Tracker Pro and Job Tracker Mobile has helped us define our work flow process, hone our efficiency and grow our service offering. Over the last few sessions with Sam and his team we have been able to collaborate and produce and extremely powerful piece of job management software with a seamless and to end process, this allows us to handle more work flow with a higher level of accuracy and reporting, without increasing our overhead thus creating organic growth for the business"
Mike Berry, Hebs Group Ltd
Job Tracker Pro is an important tool in our business. The system is easy to navigate a round. I would call it a one stop shop, as you can track everything from purchases, job status, invoicing, emails and stock control. We have commissioned bespoke modifications over the 6 years we have been using the system, from pda's, mapping and our white board. I would highly recommend this system and the support staff at SB Systems
Claire, UK Dry Risers Maintenance Ltd
Job Tracker Online
Enhance your customer service and allow your customers to view online progress reports on all appropriate live jobs.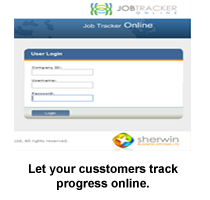 Job Tracker Online allows you to enhance the level of service you provide to your customers and job providers by furnishing them with the ability to access online, real time progress reports. Providing this service also helps you reduce the amount of time spent handling status enquiries and providing verbal or written updates.

Job Tracker Online completely integrates with Job Tracker Professional giving you the ability to easily update the progress of Jobs and in turn providing your customers with a great customer service experience. Your customers are given a username and password, they log onto our Job Tracker Online website and can instantly view all appropriate live jobs.
For more details on costs click here
or
Contact us
to discuss your options.