Additional Products
testimonials
"To be able to work so closely with the developer and get almost instant fixes & / or amendments has been outstanding. Great company to work with"
Daniel, Diamonds In Style
" Sam and the team at Sherwin Business systems have work closely with Hebs Group to ensure they fully understand our requirements and how dynamic our business can be, the flexibility of Job Tracker Pro and Job Tracker Mobile has helped us define our work flow process, hone our efficiency and grow our service offering. Over the last few sessions with Sam and his team we have been able to collaborate and produce and extremely powerful piece of job management software with a seamless and to end process, this allows us to handle more work flow with a higher level of accuracy and reporting, without increasing our overhead thus creating organic growth for the business"
Mike Berry, Hebs Group Ltd
Job Tracker Pro is an important tool in our business. The system is easy to navigate a round. I would call it a one stop shop, as you can track everything from purchases, job status, invoicing, emails and stock control. We have commissioned bespoke modifications over the 6 years we have been using the system, from pda's, mapping and our white board. I would highly recommend this system and the support staff at SB Systems
Claire, UK Dry Risers Maintenance Ltd
Job Tracker Direct
Job Tracker Direct enables you to provide your job providers with a fast and accurate means of supplying you with jobs electronically.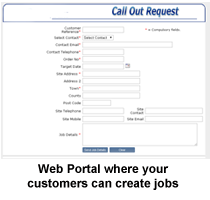 If you're still receiving jobs via Fax, Telephone or even email then Job Tracker Direct is something you should be considering.

Job Tracker Direct enables you to receive jobs directly from your job provider, quickly and accurately without you having to re-key anything. Your Job Provider is presented with a website displaying your logo, and it's designed to capture only the data you really need. They simply fill in the form on-line, press a button and the job automatically appears in Job Tracker Professional. A copy of the job is then automatically emailed to the provider as confirmation of submission, as well as two further copies going off to email addresses of your choice. Job Tracker Direct comes with a back end control panel enabling you to manage users and view jobs that have been electronically submitted.
Key benefits of Job Tracker Direct is that your service is constantly available to your job providers, even outside of your core office hours, they can simply go online and add details of the job at a time that suits them. Remove the need to accept work request via the phone, email or fax, thus saving you time or simply add the service as an additional benefit to your customers.
For more details on costs click here
or
Contact us
to discuss your options.