Additional Products
testimonials
" Sam and the team at Sherwin Business systems have work closely with Hebs Group to ensure they fully understand our requirements and how dynamic our business can be, the flexibility of Job Tracker Pro and Job Tracker Mobile has helped us define our work flow process, hone our efficiency and grow our service offering. Over the last few sessions with Sam and his team we have been able to collaborate and produce and extremely powerful piece of job management software with a seamless and to end process, this allows us to handle more work flow with a higher level of accuracy and reporting, without increasing our overhead thus creating organic growth for the business"
Mike Berry, Hebs Group Ltd
Job Tracker Pro is an important tool in our business. The system is easy to navigate a round. I would call it a one stop shop, as you can track everything from purchases, job status, invoicing, emails and stock control. We have commissioned bespoke modifications over the 6 years we have been using the system, from pda's, mapping and our white board. I would highly recommend this system and the support staff at SB Systems
Claire, UK Dry Risers Maintenance Ltd
We use SB Systems excellent bespoke software, . The product is easy to use and can be adapted. Sam offers superb remote assistance with any technical issues that might arise and is continuously making improvements to the software. We have used this product for nearly 10 years now. I highly recommend Sam Sherwin and S B Systems
Calvin Oram, Oak Tree Mortgages
Sage Integration
Our Sage Integration Module Reduces errors and time and SENDS YOUR FINANCIAL INFORMATION directly TO SAGE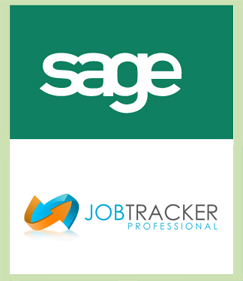 There are several ways the Sage integration will benefit you. Foremost by reducing typing errors and enabling faster invoicing. As Job Tracker Professional is great at creating documents most of our customers use Job Tracker to actually generate the physical invoice and email it directly. Then at the press of a button the financial information can be send directly into your Sage package. No errors no re-typing.
You can of course run the integration any way you wish. If you would rather let Sage generate the paperwork we can accommodate that as well. You also have the choice of using Job Tracker Pro for allocating invoice numbers or Sage, again it's your choice. Either way the integration is really a great time and error saver. There are many customisable options with our Sage integration. Perhaps you only want the overall invoice values sent to Sage, not the individual line costs. No problem. Perhaps you want the site address included as part of the invoice details. We can do that too.
Over the years we've had many conversations with many customers regards what information to send to Sage.
Today this means we've got an integration module that pretty much covers all the bases.
If you would like to discuss Sage integration, please give us a call on 01255 830113
If you integrate with Sage 50 always check with us before upgrading to ensure we support the new version.
Currently supporting:-"
Invoice Module: Version 27"
Audit / Transaction Module: Version 27"